The Team Behind Poseslongues
Philippe and Vero to welcome you
We both love to travel, and over the past few years we have had the chance to discover beautiful destinations around the world, which have given us the opportunity to meet nice people. The riches of these discoveries have certainly influenced our tastes in interior decoration.
 And today the pleasure we experience in receiving travelers from all over the world, confirms to us that a personalized welcome is always the prelude to a unique trip.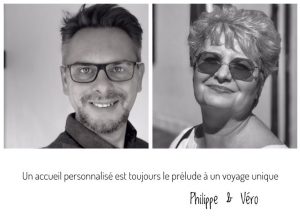 Without being homebodies, we like to admit that we also appreciate the comfort of our home, and above all the beauty of our region of Haute-Savoie and the Lake Geneva basin.
At home, weekends mean dinners with friends and family; and during our discussions, the comments of our guests confirm that they feel at home, too.
Our idea of rental housing is to evoke with our guests that they feel "at home everywhere"!
To feel at home with an added traveler experience!
Creating for our guests a bubble of comfort in which everyone should be able to relax and recharge their batteries, such was our ambition when we chose to redevelop and decorate our apartments to offer them for rent.
 We consider a rental, that it is short or long term, must be established in harmony with its environment and the needs of visitors.
At the base of our cocooning spirit, there are 3 fundamental elements
General comfort where nothing is missing.

Linen of course, a high wifi connection flow of course, a kitchen equipped with a dishwasher among others, but also small attentions which facilitate each stay.

The careful balance of decoration.

We both had a lot of fun to decorate our apartments ourselves. The secret of a balanced layout lies in the way you organize the space according to the size of each surface. This also involves the studied arrangement of the various decorative elements in harmony of shapes and colors.

Psychological well-being (including sleep) through high quality bedding.

Heavy sleeper, light sleeper, early riser, night owl, everyone has their own sleep pattern. Thus, we do not sleep more or less, but we must sleep well. And the choice of pillows, bed base, and mattress were a priority for us.
Why Long Exposures?
We have named our rental complex "Les Résidences Des Poses Longues » , for 2 reasons.
The first is a nod to our main address whose impasse is so named, and the second evokes our wish to receive our guests as long as possible, even if it comes to each time in short duration.
We offer you 3 destinations:
Treat yourself to the privilege of memorable living moments
It is no longer a question of running after time, but of giving it another dimension.